Ethiopia Kochere
Ethiopia
Medium and acidic, strawberry taste.
Roasting grade
Light roasted
This microlot from the Ethiopian district of Kochere is cultivated at an altitude of 2100 to 2300 meters. The natural drying process confers the coffee its exceptional and incomparable notes of red fruit. This drying process consists of sun-drying the coffee beans in the coffee cherries up to 3 weeks. The still relatively rare technique also increases the sweetness and body of the coffee. All of that makes for a sublime cup of coffee with a long-lasting aftertaste of blackcurrant, blueberry and strawberry.
Data sheet
Origin

Ethiopia

Continent

Africa

Roasting grade

Light roasted

Aromatic notes

Fruity

Heigt

2100-2300 m

Variety

Heirloom

Process

Natural

Strength

Medium

Acidic/ Good-balanced / Bitter

Acidic

Deca

No
For the non-EU customers, thank you to place your order via info@corica.be
You might also like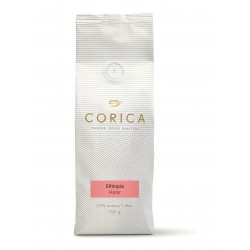 Strong and bitter, round and creamy, roasted taste.
Strong, refined and acidic fruity taste.