Colombia Geisha - Carbonic maceration
Colombia
Balanced and rich, fruity and floral notes.
Roasting grade
Light to medium roasted
Process
Handpicked, carbonic maceration
This exceptional lot from Finca Puerto Alegre (in the Colombian region of Quindio) is cultivated on the mountain flanks along the city of Pijao at an altitude of 1450m. The coffee plants grow mainly in the shadow of small tropical trees named Leucaena. These trees shed their foliage multiple times a year, offering a good source of natural fertilizers for the coffee plants. The new generation of producers of the Lopez family (the owner of the plantations) has implemented numerous procedures to improve the quality of their coffees. They have revised every step in the production process and invested in infrastructure and innovation.
The cherries are picked by hand. To do so, the pickers users a refractometer to assure that each and every one of them is perfectly ripe. Thereafter, they are subjected for 60 to 72 hours to carbonic maceration in hermetically sealed barrels. The temperature is kept between 15 and 17° during the entire process. The carbonic maceration must be carried out with great care and expertise. This procedure aims to transfer the aromas of the fermenting fruit to the parchment by using the pressure generated by the CO2. This guarantees more complex and long-lasting aromas.
This cup is bulging with complex fruity and floral notes, the typical flavours of the famous Geisha variety, intensified by the organic maceration process. An exquisitely refined bean that'll leave your mouth coated in a honeylike sweetness.

Data sheet
Origin

Colombia

Continent

America

Roasting grade

Light to medium roasted

Aromatic notes

Floral

Heigt

1450 m

Variety

Gesha

Process

Handpicked, carbonic maceration

Strength

Mild

Acidic/ Good-balanced / Bitter

Good-balanced
For the non-EU customers, thank you to place your order via info@corica.be
You might also like
Balanced and thinly acidic, notes of citrusfruit and jasmin.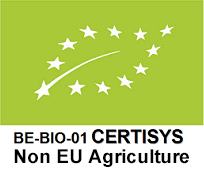 Balanced and acidic, floral taste and notes of peach.
*certified Certysis BE-BIO-01