Whether you are a coffee lover or just in search of a gourmet experience, Corica is a unique and homely specialty coffee bar that's absolutely worth a visit.  Corica is both a coffee bar and shop, where you can discover 28 different kinds of Arabica, all of which have been roasted in a traditional manner at their flagship store in the rue Marché aux Poulets.
Being a true institution in Brussels, the name boasts a history of tradition and dedication that started in 1850 in the rue Haute.  In 1902 the shop was taken over by the Wulleman family and in the year 2011 Marie-Hélène Callewaert and her son Harold Anciaux carried on the torch!
Harold Anciaux : « I've learned the tricks of the roasters trade from the Wulleman family.  When we took over the business, we bought more high-tech equipment and invested in research and development in order to be able to extract those elements from the coffee that make it so special and bewildering.  It's a natural product, so its taste depends on numerous factors such as the origin of the plant, how much sunlight it has gotten, the drying process, the roast and ultimately the extraction by the barista.  We can also count on our staff to pull a delicious espresso.  They have been well trained in the usage of high-quality machines as to optimally develop the coffees flavours. »
Corica's goal is to offer certain products that you aren't able to find anywhere else, all the while staying affordable. You can already get an espresso for 2 euros.  There's something for everyone here : ristretto, espresso, americano, latte, bon bon (condensed milk , one shot of espresso and a touch of milk foam) and homemade ice tea.  They also have a wonderful selection of teas, as well as all the accessories and machinery required to brew a great cup of coffee.  
As one crosses the doorstep of Corica, the first thing that strikes him is the homely, warm atmosphere that is reminiscent of Italian coffee bars.  A predominant black and white contrast with a wooden finish characterizes the interior.  But above all, the attention goes out to the client.  The staff carefully selects those products that best suit your preferences.  « Someone from the South of Europe often drinks a very dark roasted, bitter and strong coffee, whereas in the North people generally prefer more acidic coffees.  With our assortment, we can provide the client what he loves and over time make him discover more particular things.  »
In wine you can discern between 200 to 300 flavours, but a coffee can contain almost 3000 possible flavours.  So we are more than happy to serve you a coffee with floral, vegetal, fruity, nutty, chocolatey, stone fruit, salty or even biscuitlike notes. 
Because we regularly shake up our selection of coffees, every visit promises to be a homely moment of discovery like few other exist.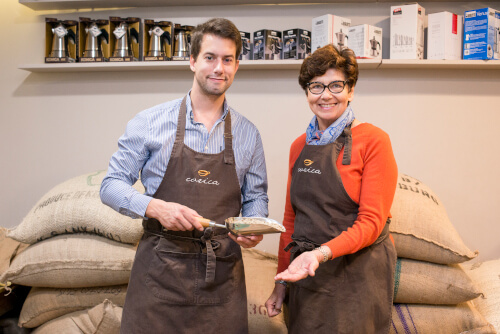 Written by Louise Van Reeth