Nepal Mount Everest
Nepal
Perfectly well-balanced, hints of caramel, hazelnuts.
Roasting grade
Medium roasted
The coffee plantations of this Mount Everest Supreme are the northernmost in the world. They are located at the foot of the Ghanesh Himal mountain range, 70 kilometers north of Kahtmandu. Not only do these plantations produce specialty coffee, but they are also involved in the reforestation of the region and the preservation of local fauna. A rather particular fact: this coffee, that is picked, sorted and processed entirely by hand, is 100% Caturra. This variety of Arabica grows on a very leafy bush, which makes for a delicate and laborious harvest. Because the bush is so tiny, it can benefit from the shadow of neighbouring vegetation. This way it is sure to receive the constant shadow it needs in order to grow.
Data sheet
Origin

Nepal

Roasting grade

Medium roasted

Aromatic notes

Cocoa-nutty

Height

700 m

Variety

Caturra

Process

Handpicked

Strength

Medium

Acidic/ Good-balanced / Bitter

Bitter

Deca

No

Recommended for

Espresso

Continent

Asia
For the non-EU customers, thank you to place your order via info@corica.be
You might also like
Intense and slightly acidic, chestnut taste.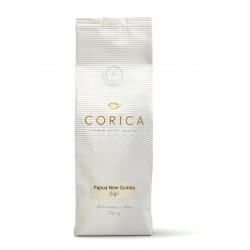 Balanced, round and very digestible, cocoa taste.